Thrift the Look Challenge | Boho Cottage Gallery Wall
27 June
I am SO excited today to be joining up with some new blogging friends for a Thrift the Look challenge!
If you've been an LVC reader for very long then you know that I love thrifting in all forms - yard sales, thrift shops, flea markets, an occasional junk pile, and a few trips to the dump here and there - I get super excited when I find those unique finds that no one else has in their home 😀
I also love a good challenge so recreating something that would normally cost quite a bit and doing it with inexpensive thrift store finds and a little DIY creativity is my jam!!
I have secretly been wanting to play along in this Thrift the Look challenge since I first discovered it on Sarah's blog,
Sadie Seasongoods
! I'm beyond excited that I get to participate with these talented ladies!
Thrift the Look Challenge | Boho Cottage Gallery Wall
Our challenge this time was to pick a "cottage decor" inspiration photo that we wanted to recreate with thrifted and DIY finds. It could be any form of cottage style we want... English cottage, beach cottage... or in my case boho cottage!
Here is my inspiration photo:
I've been wanting to create a gallery wall in my hallway for some time so when this challenge came along it seemed like the perfect motivation and timing!
I have had so much fun shopping the thrift stores with an actual shopping list of things I needed to recreate this look!
I already had the antlers (they were a gift years ago) and the drawer shadow box (i think it's a silverware drawer) was an estate sale score several years ago.
Once I had collected most of what I needed for this project I did a trial run on the living room floor! I don't normally do trial runs, I just dive right in but I had so much I needed to incorporate and a certain "look" I was going for so I decided a trial run was a good idea this time.
You can see what the mirror and skinny shelf looked like before in this picture too.
I created a little video showing how I got all this up on the wall how I wanted!
I shared many of my finds and have been talking about this
secret project
in the last few
Treasure Trove Tuesday
posts!
I know you were curious... did you have any idea it would be this?!
I made the little salt shaker bouquet during one of my National Thrift Shop posts -
7 Days of Thrift Shop Flips for National Thrift Shop Day
.
I just love this vintage bell! It's from a time when being gay had a totally different meaning than it does these days!! 😂
Here is my boring hall wall before.
And here it is after! I love this hallway now!!
I'm planning to do something different with the light switch to make it fit the boho vibe a little more... just don't know what yet!
Make sure you visit the other ladies who are creating their own versions of cottage decor! Just click on their blog names below to check out their ideas!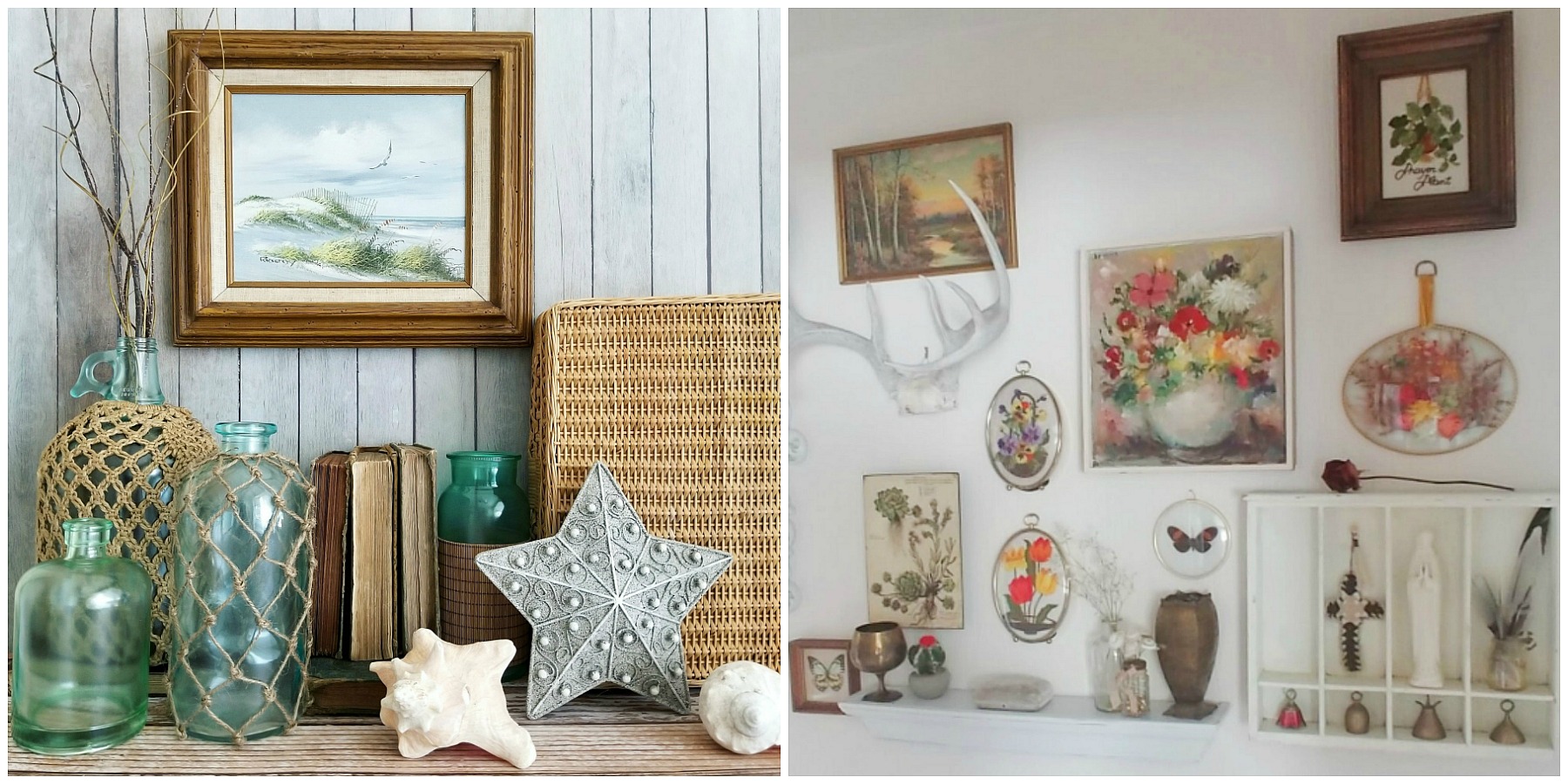 PIN ME!