Thrift the Look - Eclectic Decor
13 February
It's been SO long since my blogging friends and I have done a Thrift the Look (TTL) challenge. So long in fact that either you don't remember what the TTL challenge is all about or you're new to my blog and have never seen the TTL challenges before. So, let me introduce or reintroduce them to you!
The TTL challenges are the brainchild of Sarah from Sadie Seasongoods. For these challenges, we choose a theme as a group, and then we each choose our own inspiration photo that fits that theme. We then recreate the look with thrifted items and a little DIY.


This time around our theme is eclectic decor. My house is a mish-mash of different eras and styles... also known as eclectic... so this challenge is right up my alley!
Thrift the Look - Eclectic Decor
I actually chose two inspiration pictures. These are both from Carrie at Dream Green DIY.
I'm going to come clean and let you know that while everything you'll see in my recreation of these inspiration pictures is thrifted, I did not purchase it recently. We are about ready to move and I'm trying not to buy anything new until after we get moved.
I thrifted the Mid-Century Modern lowboy dresser about five years ago for $60 and gave it a makeover back then. You can see that makeover here: Mid-Century Modern Lowboy Dresser Makeover. It's been in my bedroom since then but now it will be used in the living room at our new house.
I thrifted the lamp about seven years ago for $2.99 and gave it a makeover back then. Here's what it looked like when I bought it and you can check out that first makeover here: Before and After - Thrifted Lamp Redo.
I gave it another makeover for this challenge with a couple coats of this green spray paint.
The Sunset magazine cover picture is my daughter's but she's not using it right now. We found it at an antique sale for $20 a few years ago. The baskets are all thrifted over time.
The planter is from a yard sale and I already had the plant. The record player is my boyfriend's and he thrifted it before I met him.
On top of the speaker is a thrifted butterfly cloche that my daughter found for me.
The little stone vase in front of the lamp was thrifted for $1.99.
I'm really happy with how it turned out and while it's doesn't look exactly like either one of the inspiration photos, I think it has the same vibe going, what do you think?
I do have a large fiddle leaf fig like one of the inspiration photos but I have not taken it over to the new house just yet. I'm a little nervous because they don't like to be moved plus it's still kind of cold outside. Not to mention, it's too big to fit in my car!
I am planning another makeover of the dresser after we get moved in to make it function better as a record stand with storage space for some records. It's going to be fun!
*****
As I mentioned before, my blogging friends (aka, the Creative Vintage Darlings on Facebook), also took on their own versions of Thrift the Look: Eclectic Decor. I hope you'll check out their ideas, as well.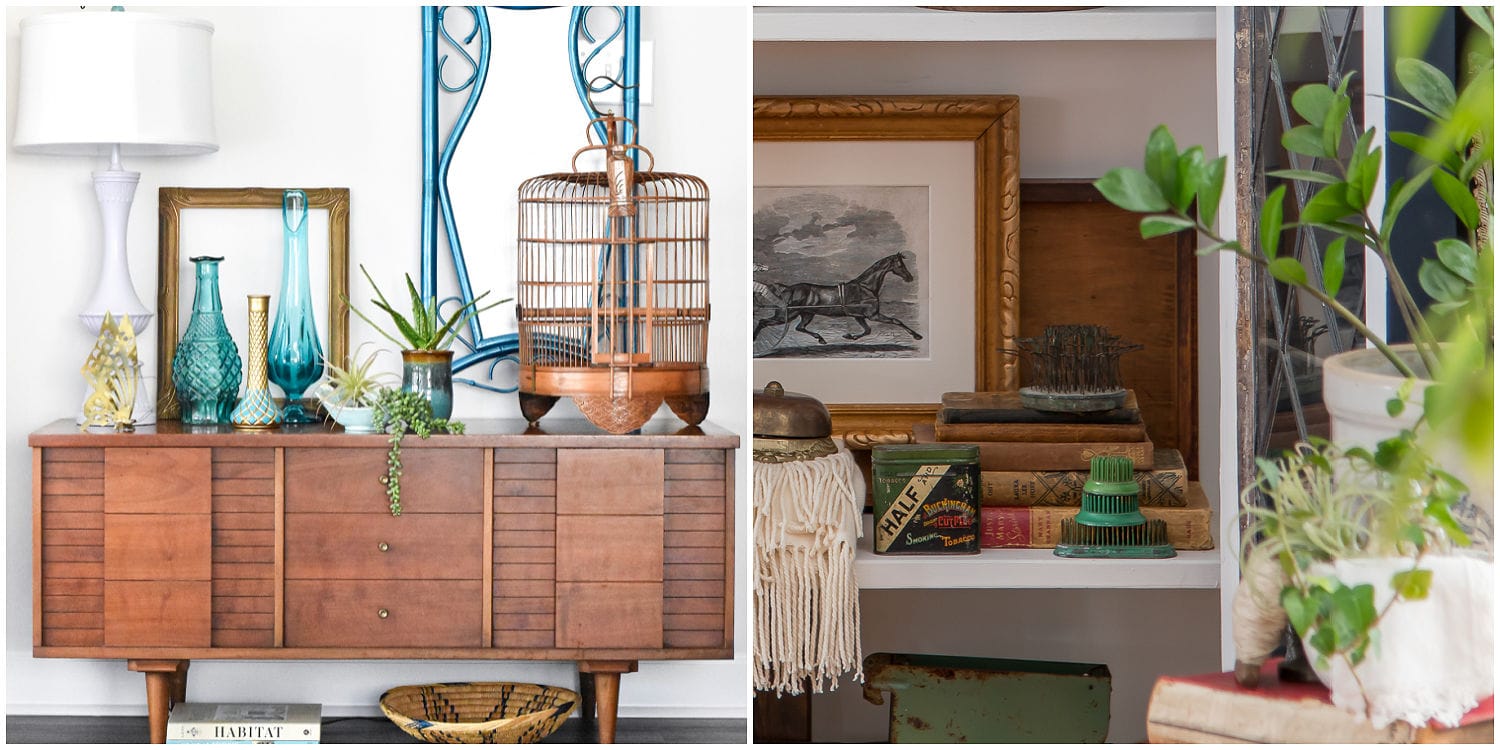 Sadie Seasongoods | Vin'yet Etc.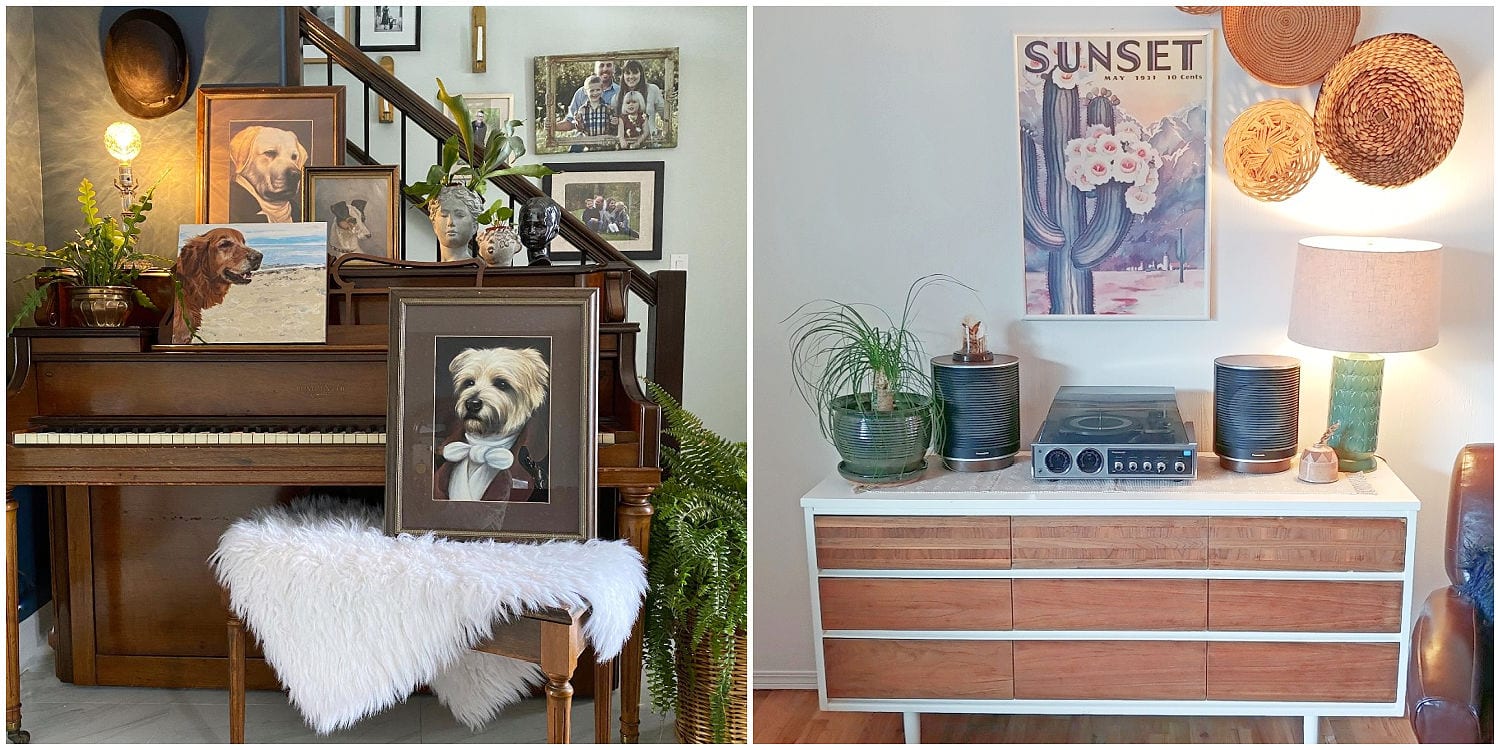 One House 2 Barns | Little Vintage Cottage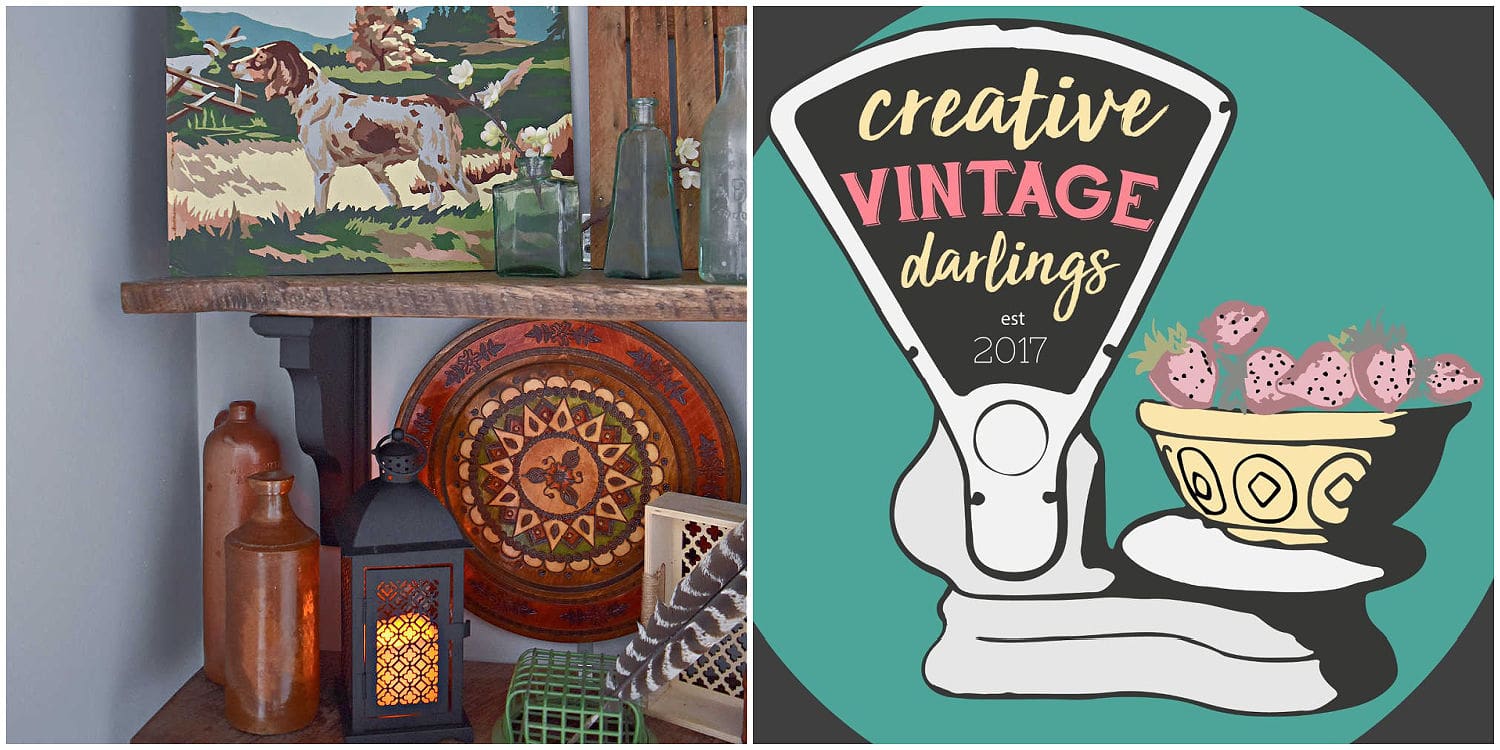 Lora Bloomquist | Join "Creative Vintage Darlings" on Facebook!
I hope you enjoyed this challenge, I know I did! Here's a comparison of my inspiration pictures with my recreation.
PIN ME!